DIRD Composite Textiles Ltd
A one-stop solution factory which integrates a knit composite facility with knitting, dyeing, washing, all-over print, yarn-dyeing embroidery and sewing in one location.
DIRD Composite Textiles Ltd. is one of the biggest and most advanced vertically integrated composite textile set-up in Bangladesh, like a  small textile city nestled between the forest and the green rice fields, away from the crowded city.
DIRD Composite Textiles Ltd is located 35 kilometers away from Dhaka airport and has a total floor space of 1,221,844 square feet. We produce mainly t-shirts, tank tops, cut and sewn t-shirts and polo shirts, sweatshirts, jackets, hoodies, turtlenecks, strap tees, shorts, trousers and dresses. We have 4 units: Knitting (circular and flat), Dyeing (yarn and fabrics), Printing & Embroidery (all-over digital printing, auto-carousel screen printing and table screen printing) and Garment Manufacturing (cutting, sewing, trimming).
The knitting section at DIRD Composite Textiles Ltd. has a daily production capacity of over 40,000 Kgs. The knitting section is comprised of advanced machines from world-renowned brands like Mayer & Cie and Matsuya.
The use of versatile and the latest knitting machineries enables DCTL to manufacture a wide range of fabrics namely Single Jersey, Rib, Pique, Fleece, Terry, Mesh, Double Jersey, Interlock, Waffle/Thermal, etc.
We also have the expertise on variety of fancy fabric ranges including loose knit jersey, different design based on single and double jersey, different kind of design fleece like diagonal fleece, herringbone fleece, drop needle and semi – jacquard structures.
Alongside circular knitting, DCTL's knitting section also comprises flatbed knitting machines (for collar, cuff and waistband) and twill tape machines.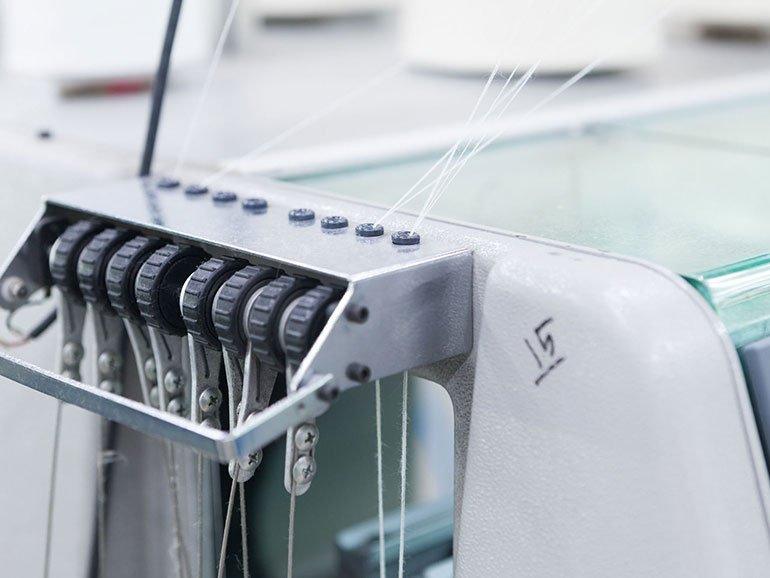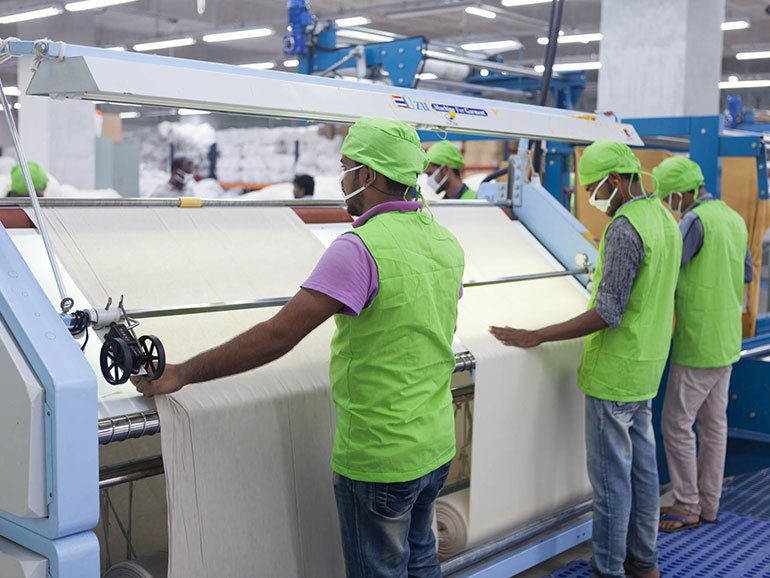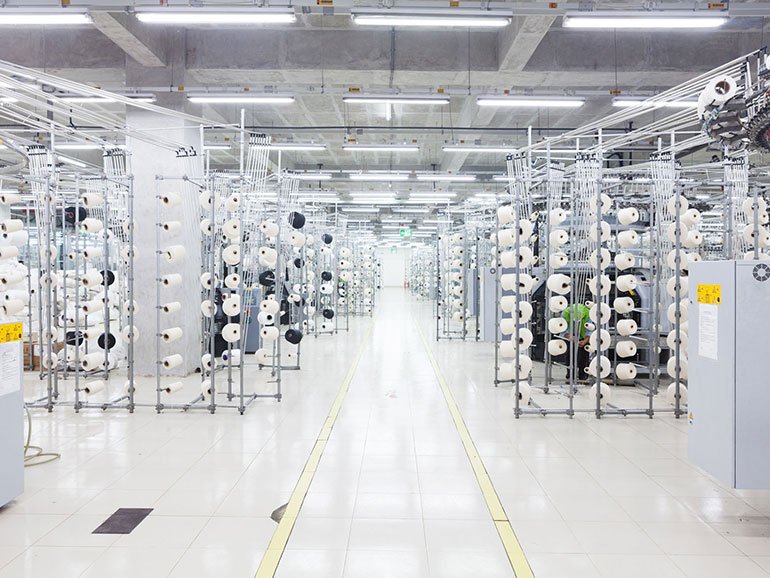 Our dyeing section is well equipped with high-tech machinery from Sclavos, Thies and Fongs. We have a solid dyeing capacity of 50 tons and yarn dyeing capacity of 12 tons per day. To ensure quality fabrics, we have a range of finishing machines from Santax, Lafer and Bruckner.
Features
We have a dedicated Research and Development (R&D) team to work on new developments and ensure parameters for bulk production.
Our well-equipped laboratory offers a wide range of testing and color recipe making facilities.
We have accreditations from Buyer: Next, M&S, Tesco and Tom Tailor for testing requirements.
We can handle delicate fabrics like viscose, modal and cotton/tencel blends.
We have one of the largest ETP in the country to treat the effluents from dyeing.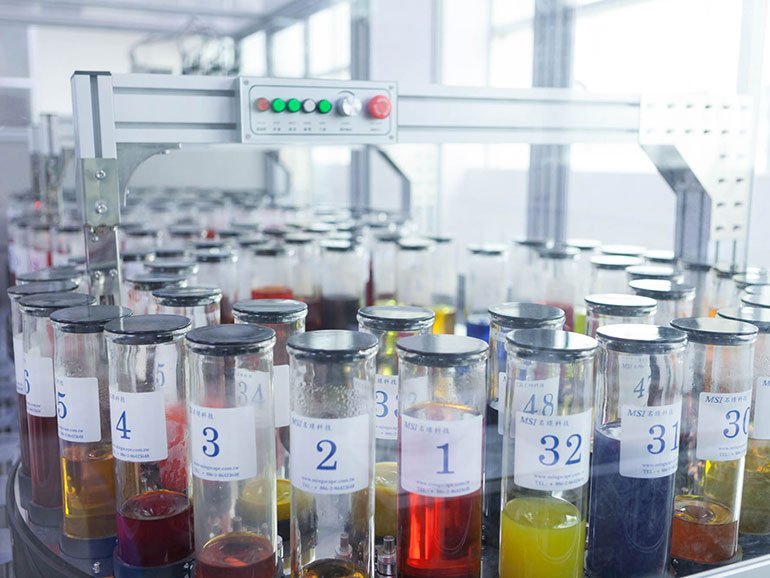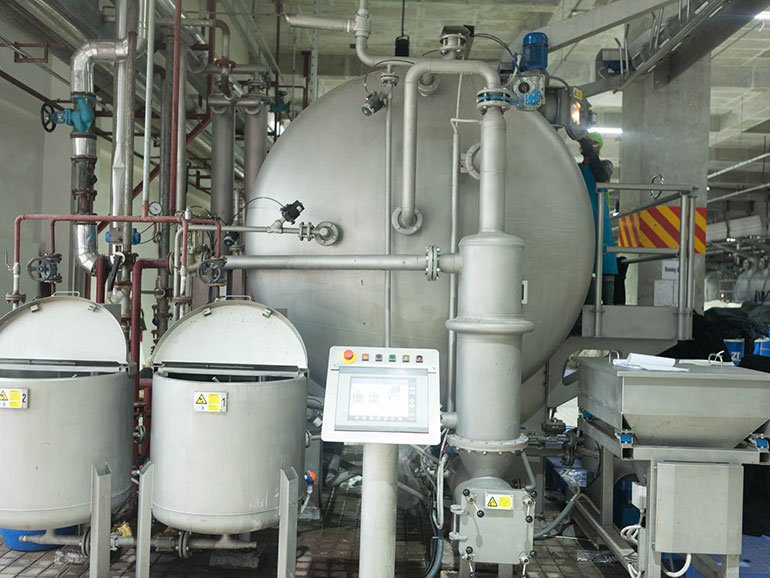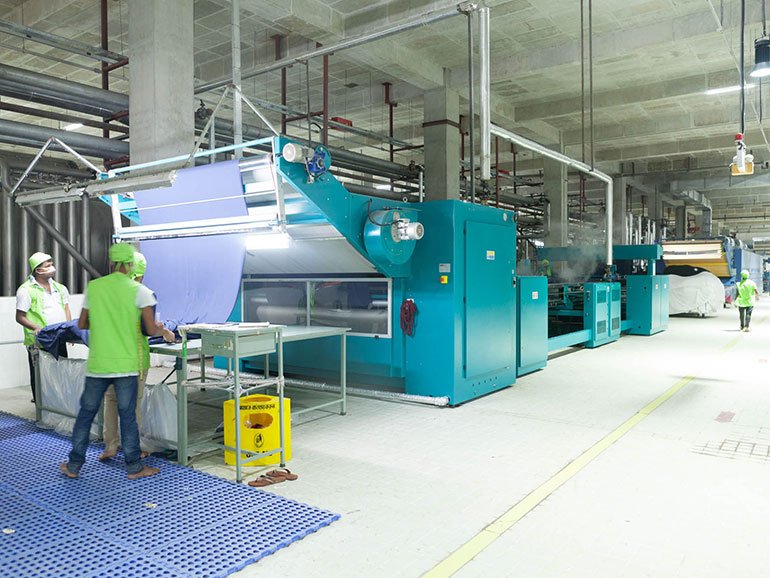 Printing & Embroidery Section
The printing & embroidery section has highly-configured printing machines including sublimation print and skilled manpower which can print up to 70,000 pieces and embroider 8,000-10,000 pieces each day. We can do printing techniques like flock, discharge, emboss, puff, reactive, pigment, burnout, stone & stud attachment, heat transfer and several others. We have also invested in a state-of-the-art in-house All Over Print (AOP) with rotary, flat-bed and digital printing along with sanforizing facility for serving all of our customers' needs. We also have facility of sublimation and digital print. Our embroidery strength includes multi color sequins and boucle embroidery.
Daily production:
Print 70,000 pieces
AOP 10 tons
Embroidery 8,000 to 10,000 pieces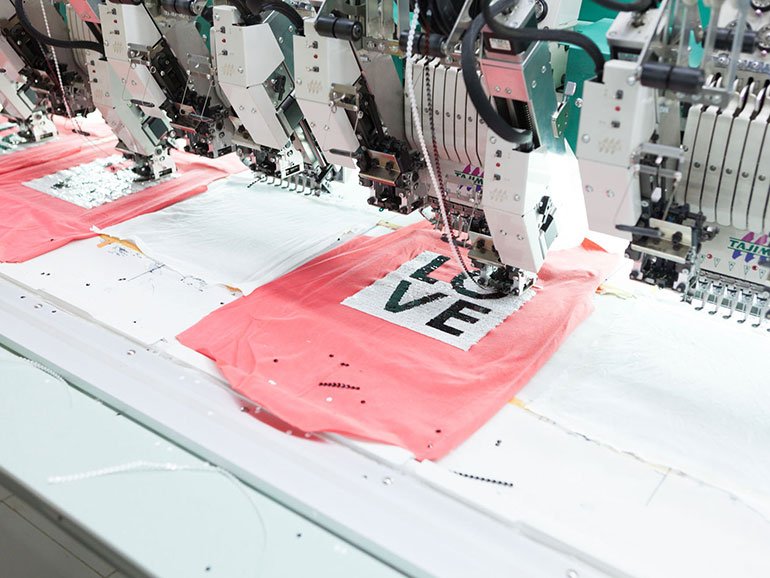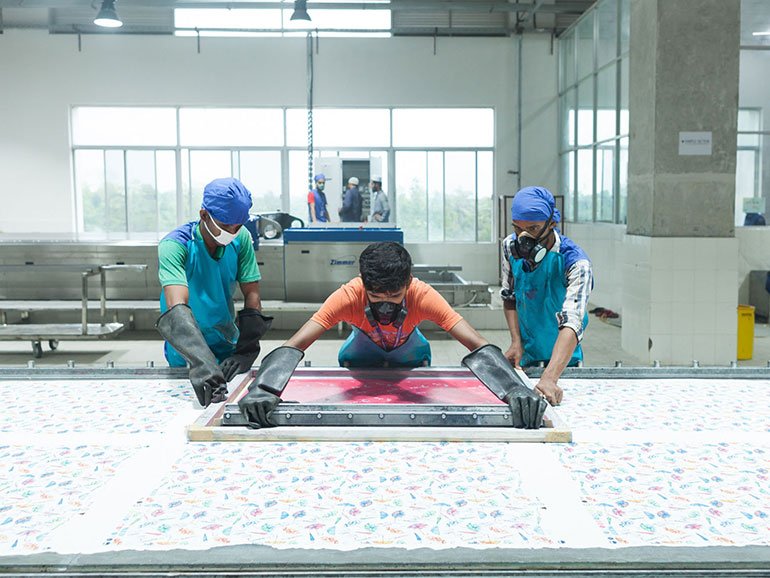 Garment Manufacturing Section
DIRD Composite Textiles Ltd. has a production capacity of 40 M pieces annually with 125 sewing lines in operation which will be expanded in the near future. The cutting department operates auto cutters and spreaders from Lectra and Morgan.
There are fabric relaxing machines and all the patterns and markers are produced using the updated version of Lectra CAD software in order to maintain optimum fabric utilization; keeping material costs to a minimum.
The DIRD Composite Textiles Ltd. garmenting unit is capable of producing a wider range of styles from basic tank tops to elaborate hoodie jackets with kangaroo pockets.
Manufacturing technology is being gradually transforming to adopting LEAN practices so as to reduce waste and to optimize efficicency to be competitive in the global market. All products are metal detector passed to ensure children safety.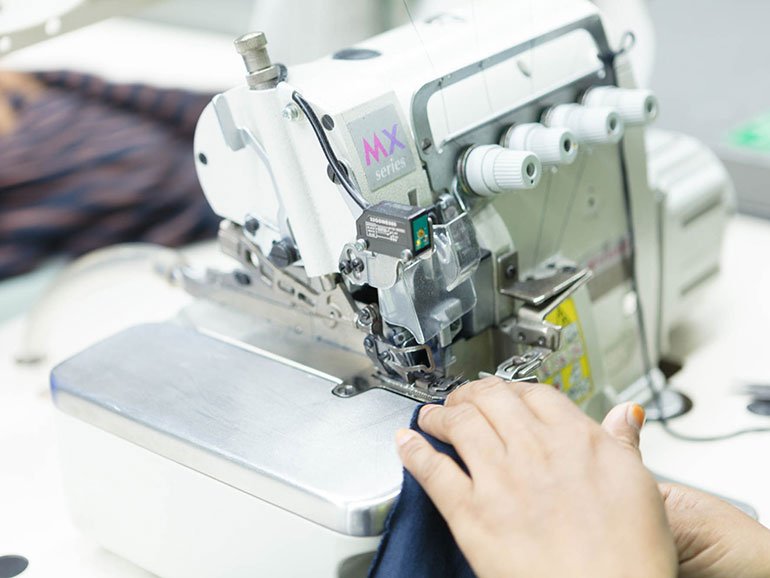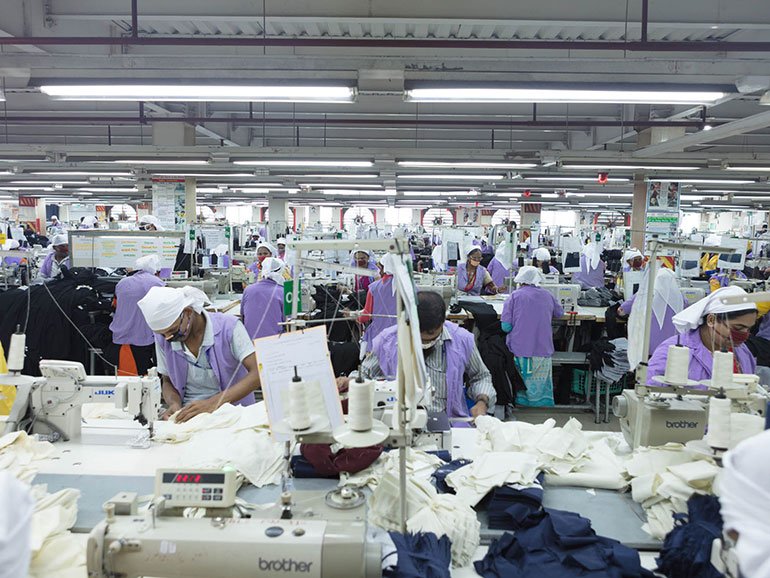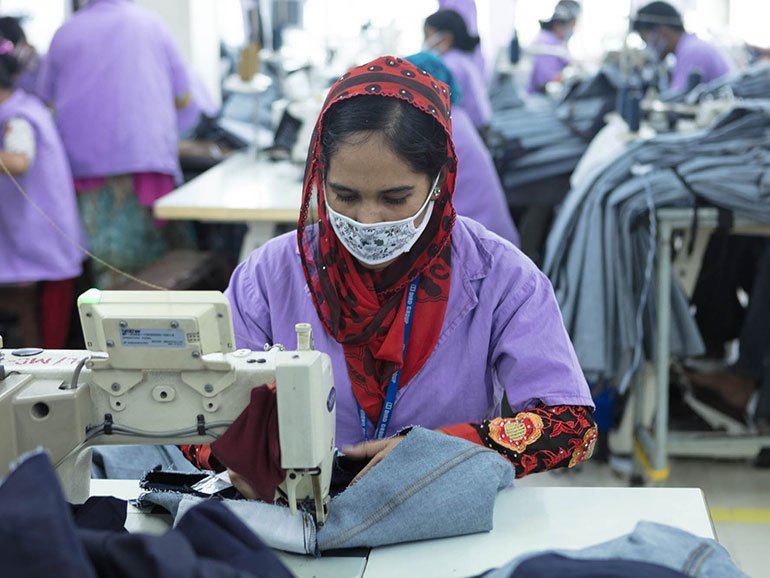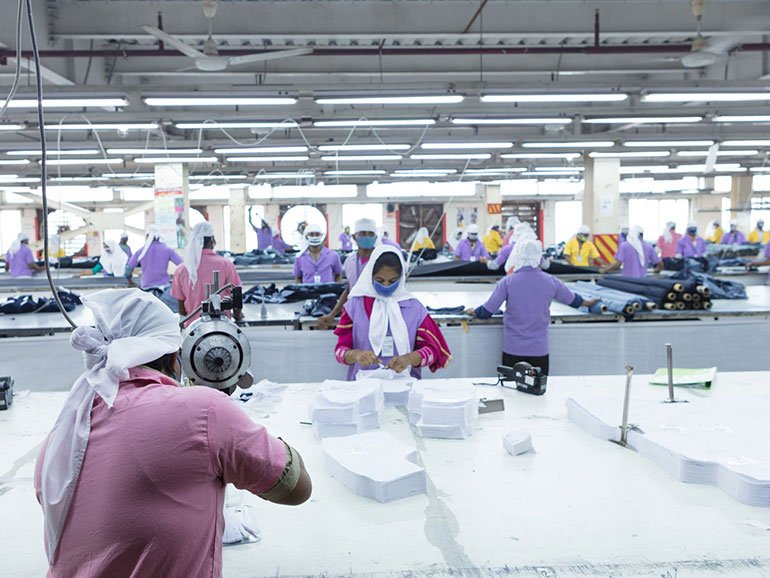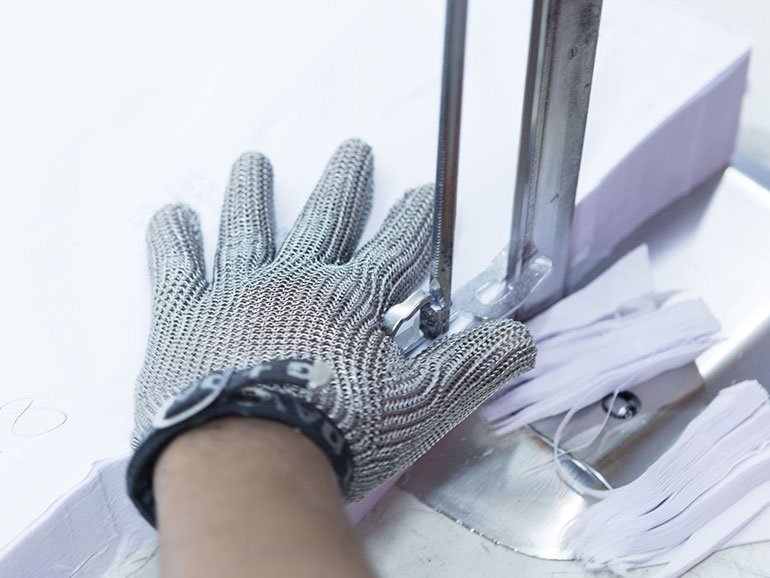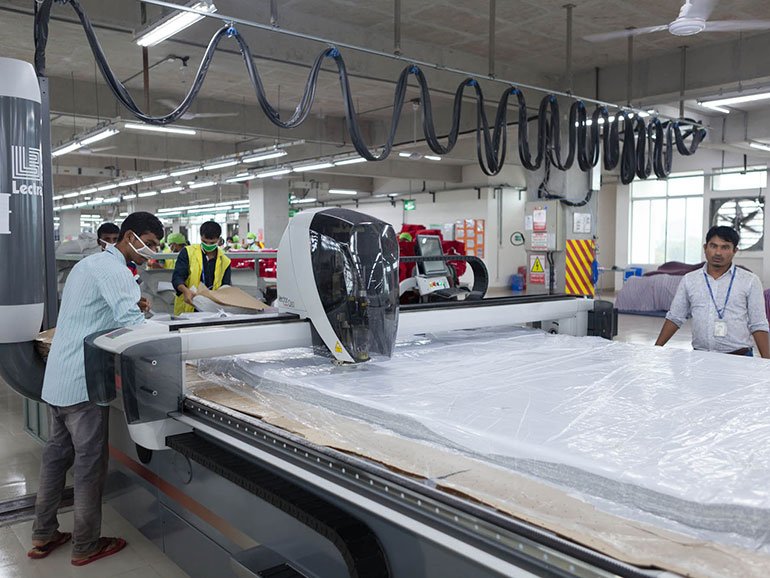 Location: Dhaka (35km / 1h drive from Dhaka Airport)
Year of establishment: 2005
Commencement of production: 2006
Type of factory: 100% export-oriented knitting, dyeing, yarn dyeing, panel print, all-over print, embroidery and sewing
Total area: 1221844 square feet
Clients: Tesco, Next, M&S, Sainsbury's, s. Oliver, Tom Tailor, Stanley & Stella, C&A, Carrefour, Betty Barclay , Bootlegger , Mother Care, River Island
Lead time: 60 days (local yarn), 90 days (imported yarn)
Sewing lines: 112
Daily capacity fabric: 50000 kg
Daily capacity garments: 140.000 pieces
Monthly capacity garments: 3000000 pieces
Manpower: 11000
Fabrics: Jersey, elastane jersey, auto stripe and feeder stripe jersey, 3 thread fleece (with or without elastane), pique, back pique, elastane pique, auto stripe and feeder stripe pique, rib, rib with elastane, interlock, terry, terry with elastane, flat knit collar and cuff and other CAM design fabrics.
Garments: T-shirt, polo shirt, tank top, cut and sewn t-shirts and polo shirts, sweat shirt, jackets, hoody, turtle neck, strap tee, shorts, trouser and dresses.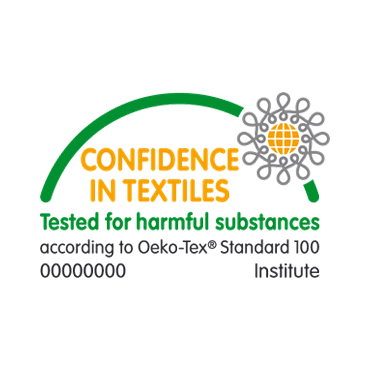 OEKO TEX standard 100 N°CU 815244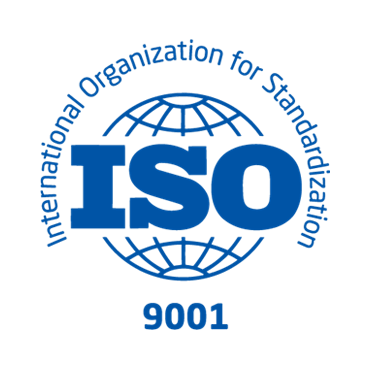 ISO 9001 Quality Management System N°BD027-QC
ISO 14001 Environmental Management System N°BD017-EC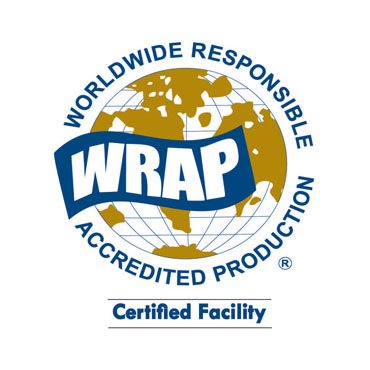 Worldwide Responsible Accredited Production ID:9654
YOU WANT MORE INFORMATIOn ?